RVT-P
Heat recovery exchangers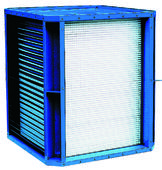 Special heat recovery exchangers with increased chemical resistance, with the design based on the RVT. This heat recovery exchanger is only a cross flow (K) type fitted in a polypropylene frame, with flange-free inlets and threaded M8 holes for connection to a HVAC duct. The unified width module of flanges is 710 mm, with heights of 500, 1000, 1500 and 2000 mm (irregular heights available on request).

RVT-P

Selection software
Lielisks kompaktums-līdz pat 60 % no ventilācijas telpas; Viegla uzstādīšana bez papildus izmaksām; Pašu ražoti siltuma rekuperācijas kodoli ar rekuperācijas koificentu no 50 līdz 92 % ...
vairāk …
ATREA s.r.o. offers a DUPLEX compact unit selection software for use by the design professionals.
The program is presently spread as a freeware ...
vairāk …