STANDARD / kitchen extractor hoods with air supply
Virtuvės gaubtai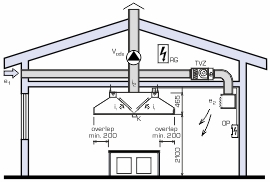 A versatile type for small and medium-size kitchens, with built-in filtration, lights and a condensate drain pan. The extractor hoods are available in lengths up to 4 metres and widths up to 1.5 metre. We recommend installation as a system with a DUPLEX ventilation unit with automatic operation control.
This section tells you all you need to know about designing a proper system and things to avoid. Intended primarily for catering facility operators.
Why ATREA?
ATREA s.r.o. manufactures main system components that include DUPLEX ventilation units with heat recovery, ventilation and air-conditioning ceilings, extractor hoods, ventilation units for hot-air heating of houses and flats and controls for these systems.
What we offer?
Proprietary products, consultancy services, the compilation of studies or project design documentation. For more details, feel free to contact us.