DUPLEX 1400–10100 Basic
Ventilation units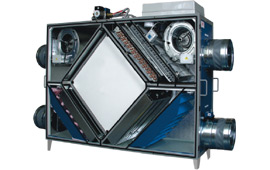 Versatile compact HVAC units made to order, with a cross flow heat exchanger with efficiency between 50 and 70 %, for installation indoors or outdoors (rooftop) according to requirements. Thanks to their small size and range of mounting positions, indoor units can be installed in spaces such as below the ceiling in warehouses or changing rooms or in corridors in the case of window-sill versions, which could not be otherwise used for HVAC systems. Outdoor units are supplied with support legs. Depending on your requirements for their functions, comfort and operation, the units can be equipped with one of the control systems available and operated manually, via time settings or through sensors (such as humidity or CO2).

DUPLEX 2000 – 8000

Kitchen reference catalogue

Selection software
This section tells you all you need to know about designing a proper system and things to avoid. Intended primarily for catering facility operators.
ATREA s.r.o. manufactures main system components that include DUPLEX ventilation units with heat recovery, ventilation and air-conditioning ceilings, extractor hoods, ventilation units for hot-air heating of houses and flats and controls for these systems.
Proprietary products, consultancy services, the compilation of studies or project design documentation. For more details, feel free to contact us.