SMART Box system
SMART Box system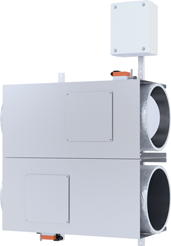 SMART box system by ATREA is the only solution on the market, linking together a central heat recovery AHU, up to 63 individually controllable decentralized VAV boxes and a cutting-edge control system including sophisticated controllers and a service interface for each flat or office.

SMART Box Technical sheet

SMART Box Marketing catalogue

Selection software
ATREA piedāvā arī lētāku risinājumu ar EASY Box sistēmām – iekārtas ar zemākām tehniskajām iespējām, taču labāku cenu līmeni.

EASY Box Technical sheet
DUPLEX Flexi have very important competitive advantages concerning their construction and business philosophy that was coordinated with premium European wholesalers.
vairāk …
ATREA s.r.o. offers a DUPLEX compact unit selection software for use by the design professionals.
The program is presently spread as a freeware ...
vairāk …
Mēs esam priecīgi jums paziņot, ka ATREA ir sasniegusi virkni panākumus, kas apstiprina, ka mūsu sauklis par to, ka esam līderi ventilācijā un siltuma reģenerācijā ir patiess.
vairāk …