MODIS 2 / extractor hoods
Virtuvės gaubtai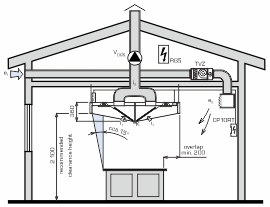 MODIS extractor hoods were designed as a modular system to allow you to choose between a completed kit or DIY assembly on site using an easy-to-follow manual. They are made solely of AISI stainless steel 1 mm thick to guarantee the appropriate resistance to heat, humidity and organic compounds. The MODIS type is the first appliance with a proprietary-design light, installed in a stainless enclosure with a rating of IP 54 and heat resistance up to 60 °C. The construction of the light ensures the required intensity and uniformity of lightning across work tops. Expanded-metal filters MODIS 400 × 400 with an efficiency of up to 90 % are used for filtration or elimination of grease.
This section tells you all you need to know about designing a proper system and things to avoid. Intended primarily for catering facility operators.
Why ATREA?
ATREA s.r.o. manufactures main system components that include DUPLEX ventilation units with heat recovery, ventilation and air-conditioning ceilings, extractor hoods, ventilation units for hot-air heating of houses and flats and controls for these systems.
What we offer?
Proprietary products, consultancy services, the compilation of studies or project design documentation. For more details, feel free to contact us.